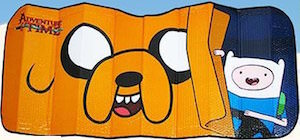 This Adventure Time sun shade will prevent your car from getting way to hot.
And this car sun shade is fun so people that see it in your car will smile.
The sun shade has an image on it of Jake the dog and he is the car windows sun shade and then there is Finn and he is trying to remove it while he is sitting behind the steering wheel of the car.
When not in use you can simply fold the sun shade so that it takes very littles space in the car.
If you like Adventure Time and would like some smiles then put this sun shade out in the sun.
You may also like: