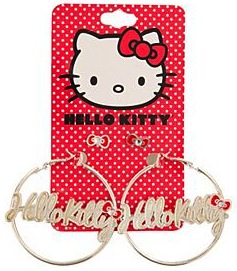 Hello Kitty fans now you found your earrings.
This is a set of two pair of earrings.
One pair are big hoops that have Hello Kitty spelled in them with a little bow on top.
And the other pair are small little red bows like Hello Kitty has in her hair. (yes they are in the picture to)
So now you can have a pair when you want people to notice you and a pair for the other days.
If you don't have Hello Kitty earrings yet then you have to check out these Hello Kitty Earrings (2 Pair).