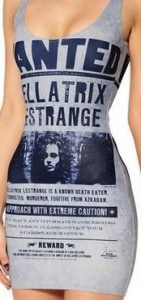 We need to find her! Bellatrix Lestrange is at large and we need all to see the wanted poster to help us to catch her and keep Harry Potter safe. Why not wear it in a dress form to spread the message in a sexy way?
This dress is grey and features a Bellatrix Lestrange wanted poster. It has a picture of Bellatrix played by actor Bonham Carter. It talks about her being a fugitive from Azkaban and it states there is a reward.
One size fits all, which fits from an Extra Small to a Medium in women's sizes.
Support your favorite half blood wizard with the Harry Potter Wanted Bellatrix Dress.