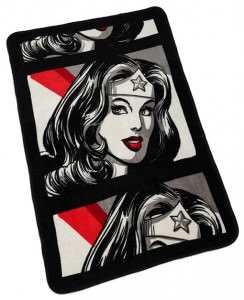 DC Comics amazing girl superhero Wonder Woman is a fierce competitor and is loved by many, if she is your favorite then this is a great addition to your Wonder Woman collection.
Featured on this large fleece blanket is a film reel image of the classic Wonder Woman Linda Carter, a head shot with a lot of detail from her strands of hair to red lips and facial features that look just like Linda Carter.
The Wonder Woman fleece blanket measures 45 inches x 60 inches and is made from 100% polyester which will give it a soft feeling yet be super warm.
Decorate with this DC Comics Wonder Woman Linda Carter Fleece Blanket.
You may also like: