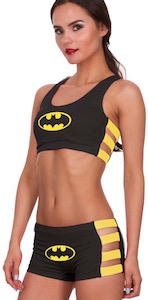 Now you can feel a bit like Batman by simply wearing special underwear.
This women's underwear set includes a bra and short like panties.
The bra and shorts are black and have the famous Batman logo on the front and to make these underwear a little bit more sexy they put yellow straps on the side that show off a little bit of skin.
You can get this Batman underwear in women's sizes Small, Medium and Large and it is a great way to always have a piece of the Dark Knight near.
It's obvious that a true fan will really enjoy wearing this special Batman set.
You may also like: