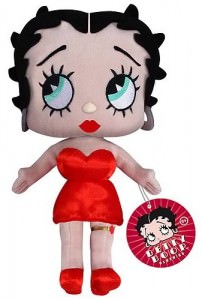 Betty Boop is so fun and loveable you just wnat to squeeze her and take her where ever you go.
Well now you can with this Betty Boop 12 inch plush doll. This Betty Boop doll is dressed in her red dress with red shoes and the Boop signature heart garter belt and pouty red lips just waiting for a peck. Betty Boop plush doll stands aproximately 12 inches and is so soft and cuddly you will definetly have a hard time putting it down.
This Betty Boop 12 inch plush doll is also a great addition to a Boops fan collection and really would look great up on a shelf.
Get your Betty Boop 12 Inch Plush Doll.