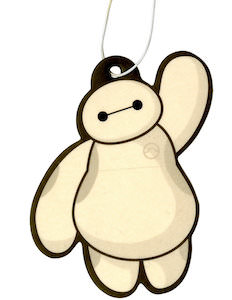 Air fresheners are often shaped in shapes like trees and that is kinda boring but if you like Big Hero 6 then you are in luck because now there is an air freshener shaped like Baymax and he is waving at you.
The Baymax air freshener is vanilla scented and just looks like the big fluffy robot from the famous movie.
Just hang Baymax on your cars mirror and your car will smell like vanilla in now time at all.
Of course you can use this Big Hero 6 air freshener in other places to. Maybe you closet at home or your locker at school could use some fresh air.