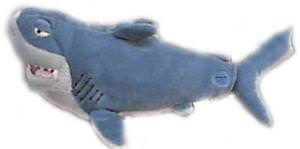 Not all sharks are mean and scary…even though they look like it.
This is Bruce the shark from the hit animated movie Finding Nemo, Bruce wants to be friendly to all fish but the smell of blood seems to get the better of him.
A very soft plush material make Bruce the shark a great bed time companion, measures 16 inches approximately in length and has many fine details like the teeth, eyes and fins.
Have a close look at Finding Nemo Bruce the Shark Plush.