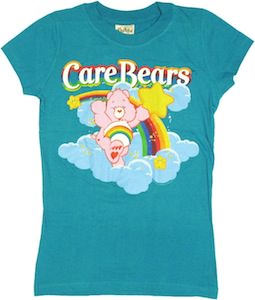 This teal blue women's t-shirt will make people smile.
Why simply because it has my favorite Care Bear on it.
Yes on this t-shirt you can see Cheer Bear dancing on some clouds while behind him like on his tummy there is a nice rainbow and there are even some stars.
This junior fit t-shirt is made from 100% cotton and is available in sizes Small – X-Large.
If you care as much as Cheer Bear then you want this shirt just to make people smile when they see it.
So maybe it is time to have a closer look at this Care Bears Cheer Rainbow T-Shirt.