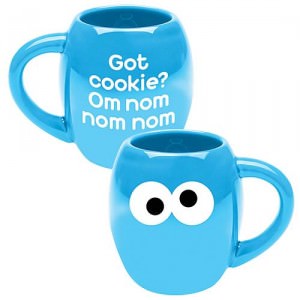 Got Cookie?  Om Nom Nom Nom.
When you are sitting down to enjoy a plate full of cookies do you have the right mug to drink out of?
Well if it is not this Seasame Street Cookie Monster mug then you will need to get it now. This Cookie Monster mug has two big googly eyes on one side and the famous cookie Monster saying "Got Cookie? Om Nom Nom Nom" on the other side.
The great part about this mug is it is high quality crafted from ceramic and is microwave and dishwasher safe, the Cookie Monster mug holds 18 oz of your favorite beverage to go along side your favorite cookies.
Enjoy your own Seasame Street Cookie Monster Om Nom Nom Nom Mug.