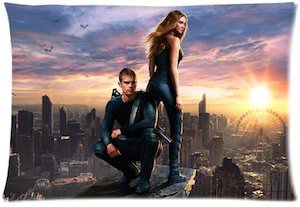 Do like to dream away and dream about the Divergent story?
I am sure that will be so much easier if you pillow has this Divergent pillow case over it.
On this pillow case you can see the city skyline with in the  back the big ferris wheel and then all the way in front you can see Tobias (four) and Tris .
This Divergent pillow case fits a standard 20 x 30 inch pillow and would look just stunning on your bed. The pillow case only has the amazing Divergent picture on one side so that you can easily hide it from noisy brothers and sisters.
Lets get ready to dream on a pillow that lives in this Divergent Pillow Case.