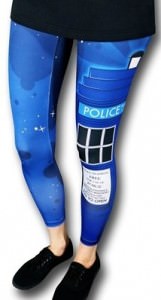 Are you looking for that unique really cool Doctor Who item that will set you apart from all other Doctor Who fans?
Well here is that item, have a look at these leggings that feature the Tardis from the hit television series Doctor Who.
Find the Tardis taking up most of one leg in full detail depicting the Tardis and the other leg is the Tardis blue looking like space with stars shades of blue all over the leggings.
The Doctor Who Tardis leggings are available in many sizes and are ready for you to order today.
Slip into your Doctor Who Tardis Leggings.