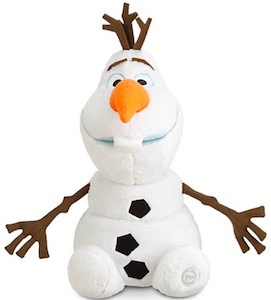 Olaf is the nicest snowman you will ever meet and now you can have your own plush version.
And because the plush Olaf is not frozen it will be much more fun to play with.
He is 18″ tall and has posable arms and embroidered features and will be loved by all.
Unlike in the Frozen movie from Disney you do not have to worry about him melting as there is no actual snow on this snowman.
If your kids loved the movie Frozen then they will adore this cute Olaf plush.
Make you kids happy with this Frozen Snowman Olaf Plush