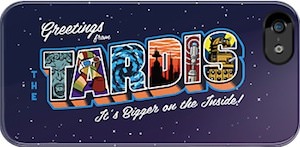 Doctor Who fans this is the iPhone and iPod touch case you have bin waiting for.
This case is availible for the following Apple devices:
iPhone 5
iPhone 4S
iPhone 4
iPhone 3GS
iPhone 3G
iPod Touch 4e generation
And all these cases are made to fit your device perfectly in away that it protects you phone from harm while looking amazing.
This case shows a star filled sky and the words "Greetings from the Tardis  it's bigger on the inside!".
And each letter of the word Tardis shows special graphics like there is a letter with a sonic screwdriver and one with a Dalek and even one with the big scarf from the Doctor.
It all looks so fun and so much like something a true fan of the Doctor would have that you should check it out.
Come and have a much better look at this Doctor Who Greetings From The Tardis iPhone And iPod Touch Case.