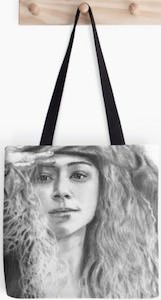 If you are a fan of Orphan Black then of course you know Helena.
And now you can have a tote bag with a portrait of Helena on it.
OK Helena may not be the smartest one of the clones but I still think she has something sweet in he.
And now you can take Helena where ever you go as a drawing of her face and her wild hair can be found on each side of this tote bag. And you can get this Orphan Black tote bag in different sizes so that you can get the perfect bag for your needs.
Stop using plastic bags and replace with this Orphan Black Helena Portrait Tote Bag.