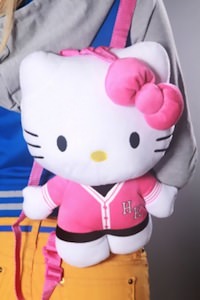 OK going to school is fun and all but how do we entertain ourselfs for so many hours everyday?
Maybe it helps if you have a fun backpack like this Hello Kitty plush backpack.
This backpack is shaped like Hello kitty and Hello kitty is wearing a jersey with HK on the side and a she has a nice pink bow in her hair.
If you want to impress you friends then come check out this Hello Kitty Plush Backpack.