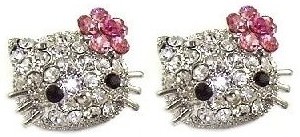 The always cute, fun and awsome Hello Kitty is here on a piece of jewelry that will be most memorable i'm sure.
A pair of beautifuly designed stud earrings featuring the Hello Kitty face and pink bow, made with Swarovski Crystal the details are amazing. Each earring measures 3/4 of an inch from whisker to whisker and are silver plated so they wil sparkle and shine for ever.
These look so amazing on, you will never stop getting compliments about your Hello Kitty earrings.
Get your Hello Kitty Swarovski Crystal Stud Earrings.