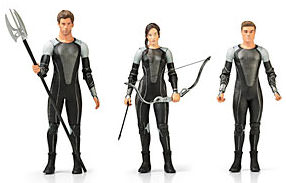 There we have 3 of the tributes of the last Hunger Games.
It's Peeta, Katniss and Finnick.
And sure they are not real they are 7″ tall action figures that are dressed in the clothes they where wearing in the Quarter Quell arena.
Katniss brought here bow and 3 arrows and Finnick brought his trident spear.
These action figures are not made as toys for little kids and they even say ages 14+ and yes that means that adults can play with them to.
If you liked the Catching Fire movie then why not add some characters to your collection.
Come and have a better look at these The Hunger Games Catching Fire Action Figures.