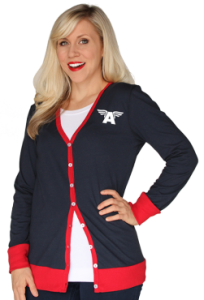 Are you looking for a classic sweater or cardigan to add to your wardrobe and show off your love for Marvel's awesome superhero Captain America?
Look right here at this retro and amazing cardigan.
This cardigan is all navy blue with red waist trim, red v-neck trim, red cuff trim and red trim along where the buttons fasten on the front.
Also find a huge Captain America sheild logo on the back and a very cool looking logo of an "A" with wings on the front left.
Made to be super comfortable this sweater will also be durable as it is made from the perfect blend of polyester, rayon and spandex.
Be super stylish and comfortable with the Marvel Captain America Cardigan.