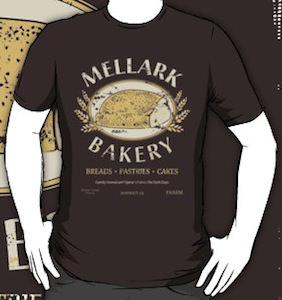 Everyone who read the Hunger Games knows about the story how Katniss and Peeta met when they where still kids.
Peeta's parents run a bakery in district 12 and Katniss loves bread. These days Katniss will bring some of her catch to Peeta's father and in return she will get some nice fresh bread.
And for all of us who can't go to distict 12 for bread there is a t-shirt that at least gives us the feeling that we bin there. And if you smell the shirt you even may smell the fresh bread from the Mellark Bakery.
This Hunger Games t-shirt is availible in 21 colors and in different styles there is even a hoodie for those cold nights in Panem.
Real Hunger Games fans wear this Mellark Bakery T-Shirt.