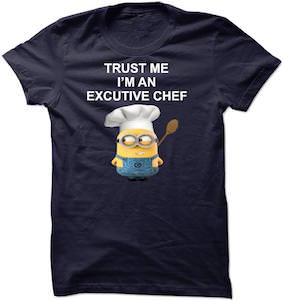 Minions are cute but not the most trust worthy creature on the planet.
On this t-shirt you can see a two eyed Minion wearing a chef's head and holding a wooden spoon and he looks away like he is avoiding you.
Above the Minion it says "Trust Me I'm An Excutive Chef" and yes even with the spelling mistake you probably not gone trust what this creature would be cooking for you.
It is a fun 100% cotton t-shirt that comes in a men's and women's version in sizes going from Small – 4XL and it is available in many fun colors.
If you like food and Minions then you have to see this Minion Trust Me I'm An Excutive Chef T-Shirt.