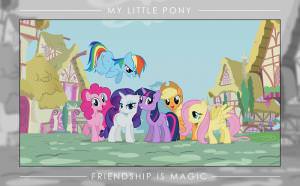 Add a little bit of magic to any room with some friendship.
This is a really well done group picture of the the six main My Little Pony characters from the cool series Friendship is Magic, find Pinkie Pie, Rarity, Twilight Sparkle, Apple Jack, Fluttershy and of course in the air is Rainbow Dash.
Using an awsome artistic drawing and high quality print find this poster in sizes Small (23.2″ x 14.4″) and Medium (33.1″ x 20.5″) also check out the cards and different types of framed and mounted styles to get this My Little Pony Friendship Is Magic printed on.
Find your My Little Pony Friendship Is Magic Poster.