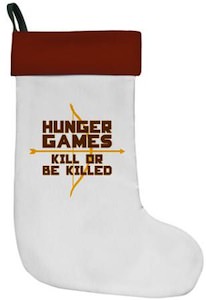 The Hunger Games Christmas stocking can help you get through the holidays.
Fill it up with some nice canned foods and you don't have to be hungry this Christmas.
Katniss, Peeta and Gale all would have loved to have one when District 12 was still the old way.
This Christmas stocking has a bow and arrow on it and the words "Hunger Games Kill Or Be Killed".
It's never to early or to late to start thinking of Christmas so maybe now is a good time to order your The Hunger Games Christmas Stocking.