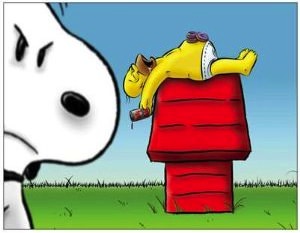 This magnet combines Peanuts with The Simpsons in a fun way.
On this magnet you see the dog house of Snoopy but instead of Snoopy lying on top of it we see Homer Simpsons in his underwear with donuts on his belly and a can of Duff bear in his hand.
And then when we look left we see a part of a very not happy Snoopy.
And this picture can be found on a large 5 1/2 x 4 1/4 inch vinyl magnet.
So now you can dress up anything metal with your favorite cartoon creatures Homer and Snoopy.
Come see this Snoopy Meets Homer Simpson Magnet.
You may also like: