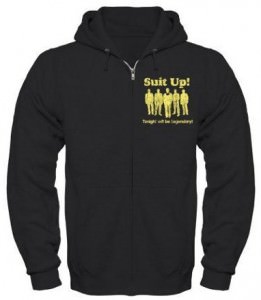 Suit Up! A classic line that is usually said by Barney Stinson from the hit comedy television series How I Met Your Mother.
This is a hoodie that features a faded silouhette of some of the cast from How I Met Your Mother and the text above says "Suit Up!" and under the silouhette you will find the rest of this awsome line "Tonight Will Be Legendary". This entire logo is faded to give it a classic look.
You can find this hoodie made with durable double-needle sewing  and heavy-weight 1×1 ribbing at cuffs and waistband, a full zipper makes this easy to throw on and off. Check out all of the different and cool products you can get this "Suit Up! logo printed on aswell.
Get your How I Met Your Mother Suit Up! Zip Hoodie.