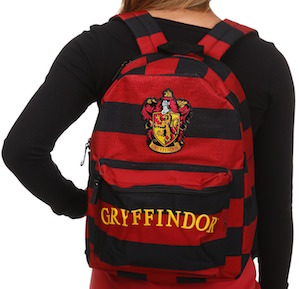 Now there is a Harry Potter backpack even Harry himself would use.
This backpack is Gryffindor themed, it has red and black stripes all over the bag and even the adjustable shoulder straps and then there is of course the crest of Gryffindor on it and the name.
And to make this Gryffindor backpack even better they added a build in hood that is black but has the scar from Harry Potter on it so it looks like you are Harry going to Hogwarts.
The Harry Potter backpack is 16 x 12 x 5 inch making it the perfect size for many occasions like fun, school and maybe even some traveling.