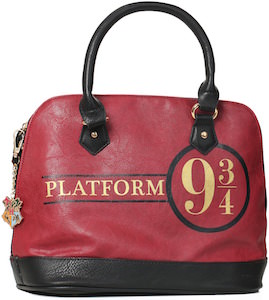 A true Harry Potter fan of course know from witch platform the Hogwarts Express leaves from and this handbag is all about that.
The handbag is mainly burgundy red just like the Hogwarts Express sign in the movie and has a black handle and bottom. On the red you can see in big letters "Platform 9 3/4" so that you know what it is all about.
And this dome satchel has a fun Hogwarts charm on the zipper that closes the bag. Inside the Harry Potter bag you can find another zipper pocket so that you can also protect some of your smaller things in the bag.
You may also like: