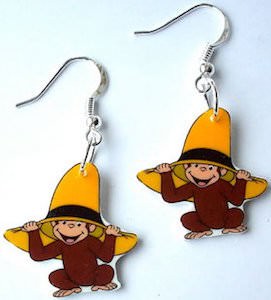 I don't think there is anyone that does not like Curious George and that means that everyone is gone love to see these Curious George earrings on you.
These earrings are made from plastic making them sturdy and light and perfect when you wear them around children that like to touch everything.
The picture of Curious George wearing the big yellow hat of his owner is just to cute.
Sure this may now be jewelry to wear to a fancy dress up party but it will be perfect for hanging with kids at school or home.
Why not take a closer look at these cute Curious George Earrings.