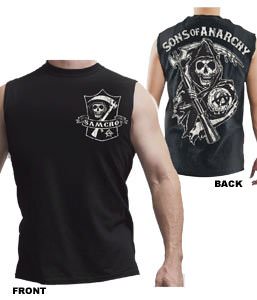 OK so you are looking for a nice sleeveless shirts to make those muscles stick out a bit more.
How about this black muscle shirt?
On the front you can see a small reaper logo and the word "SAMCRO" and on the back you have a big reaper logo and the words "Sons Of Anarchy".
And this Sons Of Anarchy T-Shirt comes in a wide range of sizes from Small – XX-Large and it is made from 100% cotton.
Come and get your own Sons Of Anarchy Reaper Sleeveless Muscle Shirt.