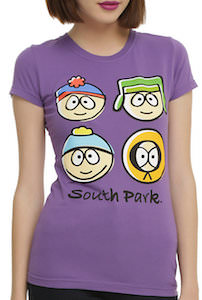 This women's South Park t-shirt does not show you the usual graphics but does show you Cartman, Kenny, Stan and Kyle just in a different style and that makes this girls t-shirt even better.
Besides Cartman, Kenny, Stan and Kyle the purple t-shirt also says "South Park" on it so that you know for sure what this t-shirt is all about.
The South Park t-shirt is available in women's junior sizes Small – XL and is fitted and made from 100% cotton.
Any female fan of South Park should take a look at a fun purple t-shirt like this one because it's just fun and shows all your favorite South Park characters on it to.