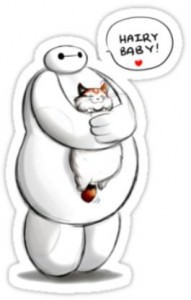 Hairy Baby, no Baymax that is a cat but it's ok.
Featured on this vinyl sticker is the friendly nurse-bot Baymax from the cool animated movie Big Hero 6, Baymax is a large round robot that is all white and here he is standing hugging the cat Mochi with a quote bubble that says "Hairy Baby!" and a red heart.
Made from a durable vinyl that is waterproof and long lasting life for outdoors, it is easy to remove without leaving a sticky residue. Measures approximately 4 inches x 3 inches leaving a complete 3mm border to give it a very unique and great look
This Big Hero 6 decal would look great on your vehicle window but it can also be used for your laptop, iPad, Tablet or even binders, really any clean smooth surface you want.
Have a closer look at the Big Hero 6 Baymax Hairy Baby Sticker Decal.