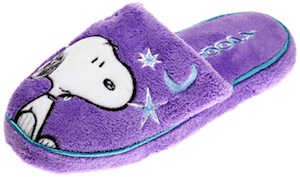 Snoopy the friendly dog from the Peanuts cartoons now is gone help the females of this world to get nice and warm feet.
These purple slippers come in a range of women's sizes and of course have Snoopy on it.
You can find Snoopy on the front surounded by stars and the moon and it has Snoopy printed on the footbed to.
These fun and warm Snoopy slippers have a nonslip back so that you can use them safely while walking around the house.
Do you have a lady friend with cold feet? If so maybe these Snoopy slippers will real make her happy.
Come check out all the details of the Snoopy Purple Moon Women's Slippers.
You may also like: