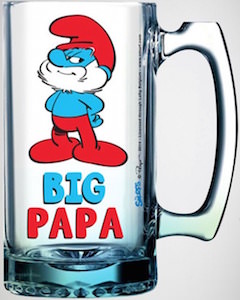 We all know about one papa that is big and still so small.
Yes Papa Smurf the little blue fellow with the white beard and red head and pants. The leader of the Smurfs can now be found on a nice big beer glass.
This beer mug is made from glass and is see through but it does show a picture of Papa Smurf and below him the text "Big Papa".
Summer or winter there is always time for a nice beer and having the perfect glass for that is what you need.
Look no further just come and order your Papa Smurf Beer Stein.
You may also like: