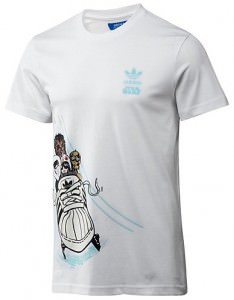 Yes you are seeing this correctly!
Luke Skywalker is the captain of the Rebel Alliance bobsled team and he has his favorite friends Chewbacca, Han Solo and C-3PO riding along and going for gold with him.
This Adidas t-shirt is an awsome shirt for the Star Wars fan and features 4 great characters from Star Wars riding in a bobsled that is shaped like an Adidas shoe. A very comfortable fitting t-shirt with a crew neck, find it in your size and support the Star Wars Rebel Alliance bobsled team today.
Get your Star Wars Adidas Bobsled T-Shirt.