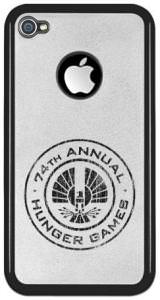 In preperation for the 74th annual Hunger Games I think a good start would be getting protection for you precious iPhone.
This is the perfect phone case for the Hunger Games fan, on this case find a very nice logo that has the Capitol Seal with the text around it saying "74TH ANNUAL HUNGER GAMES", all of the text and the logo is distressed to give it a vintage look.
Made to fit the iPhone 4 and the iPhone 4S this case has really durable molded silicone sides that you can get in black or white, while this case is on it will also leave you access to all ports, buttons and functions.
Support the Hunger Games with the 74th Hunger Games Capitol Seal iPhone 4S Case.