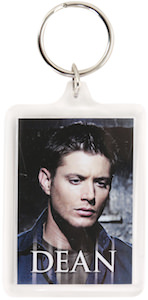 Are you always losing your house or car keys?
Well make it easier to find them by putting them on this cool Supernatural Dean Winchester key chain.
This awesome Supernatural key chain features a picture of the hot sexy Dean Winchester from the chest from the Television show Supernatural with his name DEAN written at the bottom. On the back of the Supernatural key chain you find the logo " SUPERNATURAL The Television Series".
It is 2 1/4″ x 1 1/4″ in size, witch is the perfect size to put your keys on and store in you pocket or your purse.
You will dream of the sexy Dean Winchester when you attach your keys to this awesome Supernatural Dean Key Chain.
You may also like: