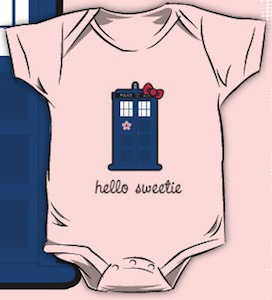 Your little baby needs the right stimulation to grow in to the right kind of person.
And to reach that goal they made this bodysuit that has the Tardis from Doctor Who on it but it has a red bow on it just like Hello Kitty and yes a flower on the door, it even say "Hello Sweetie" below the Tardis.
So yes that means that this would happend if the Doctor and Hello Kitty would meet.
This bodysuit is made by American Apparel out of 100% cotton. And the bodysuit is availible in short and long sleeves and in a range of fun colors.
And if you want a t-shirt instead of a bodysuit then you are in luch you can get this Hello Kitty Meets Doctor Who print on kids and adult t-shirts to.
So don't wait come and check out this fun Hello Kitty Meets Doctor Who's Tardis Bodysuit.