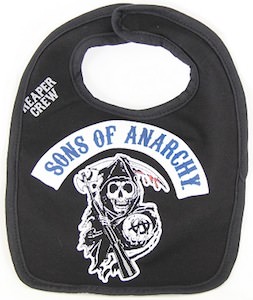 Do you expect your son to become a biker?
If so then maybe this is the time to get him a Sons of Anarchy bib so that he can learn what motorcycle gang to go for.
This bib is black and has the famous reaper logo on it with above that the words "Sons of Anarchy" just like you can see on some of there jackets and then in the corner it also says "Reaper Crew".
One size fits most that is what you can expect with this Sons Of Anarchy bib but don't expect it to fit your husband.
If you are bib shopping then check out this Sons Of Anarchy Infant Bib.