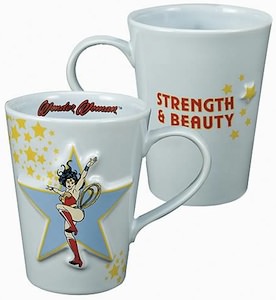 Get a fun new mug to drink you cofee and tea out of because you old mug looks dull and boring.
How about this Wonder Woman mug?
The mug is sculpted and that means no flat boring mug no here you can feel things like sticking out.
On the inside of the mug you will find the words Wonder Woman and on the outside you see stars and Wonder Woman in action. And on the back it says Strength & Beauty because those are Wonder Womans powers.
Get ready for a fresh cup of coffee out of you new Wonder Woman Strength & Beauty Mug.
You may also like: