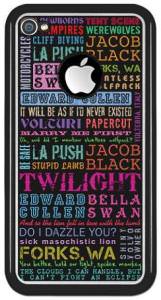 Attention Twilight fans!!!
If you are a huge Twilight fan then this is the perfect iPhone case for you, featured on  this case is exactly how it sounds……Twilight stuff.
Find many sayings, quotes and titles all related  to Twilight like "JACOB BLACK" "FORKS,WA" "BELLA SWAN" "IT WILL BE AS IF ID NEVER EXISTED" "EDWARD CULLEN", and many many more from the series of Twilight movies.
Precisely made to fit the contours of the iPhone 4 and the iPhone 4S it will help protect from bumps and scratches while keeping all ports and buttons open for access.
Protect with the Twilight Stuff iPhone 4 / 4S Case.