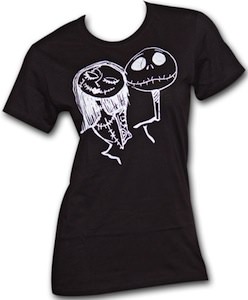 This The Nightmare Before Christmas T-Shirt shows Jack Skellington and Sally drawn on the front of this black t-shirt.
On the back of this women's t-shirt is say "True Love".
A special t-shirt for a special women.
The Love between Sally and Jack is clear by just looking at the white drawing on the black t-shirt and then the True Love on the back makes it complete.
If you like Jack and Sallen then come check out this The Nightmare Before Christmas True Love T-Shirt.