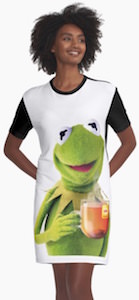 This Kermit dress is perfect for all The Muppets fans that like tea.
The t-shirt style dress is black on the back and has black sleeves but the front is white and on that you can find a big picture of Kermit the frog with a cup of tea.
So if you are looking for the perfect dress to drink tea in then this Kermit dress could be the one.
You can get this Muppets dress in women's sizes XSmall – 2XL and it has a loose casual fit.
Show that world that you like the green frog named Kermit by wearing this dress.
You may also like: