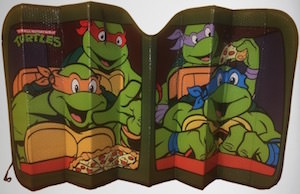 This Teenage Mutant Ninja Turtles car sun shade will keep your car cool as it blocks the sun and it keeps it looking cool because of the Ninja Turtles.
The sun shade is foldable so that you can get it out when you need it and shows the 4 turtles like they are driving and eating pizza of course.
The shade shows Raphael, Donatello, Leonardo and Michelangelo as if they are driving to something really fun as they all seem really happy. My guess is that they are going to a pizza restaurant.
So now there is no need for a boiling hot car any more because this TMNT sun shade will keep it cool.
You may also like: