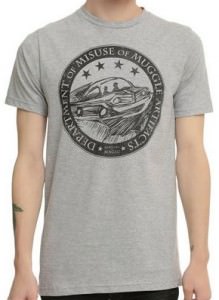 Harry Potter is so famous in our muggle world, but the world he lives in is so very different and wants to preserve everything they stand for, especially the misuse of a muggle artifact.
This Harry Potter t-shirt is heather grey and features a round graphic logo of the Department of Misuse of Muggle Artifacts. The logo is all black. The ring around the outside of the logo has the department name in it along with "Ministry of Magic". The inside of the logo is a picture with 4 stars and an etching of a car.
This t-shirt is made of 100% cotton so it is sure to last and have a great comfortable time on your body and in your closet.
Help the department with the Harry Potter Muggle Artifacts T-Shirt.