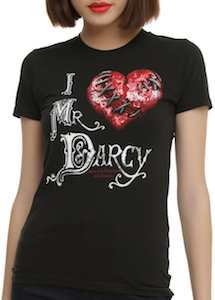 If you like zombies and the classic story Pride and Prejudice then maybe the movie Pride + Prejudice + Zombies  is perfect for you as it combines the best of both worlds and you can still love Mr. Darcy.
This t-shirt shows a sown up red heart and around it in big fancy letters the words "I Mr. Darcy" and that with the red heart of course means "I Love Mr. Darcy" and in small print below all that it also says "Pride and Prejudice and Zombies".
This black women's t-shirt is great looking and will raise some eyebrows as people may not understand what this t-shirt is all about. But when the zombies come they will get it.
You can get this Pride + Prejudice + Zombies  t-shirt in women's junior sizes XSmall – XL and all are made from 100% cotton.