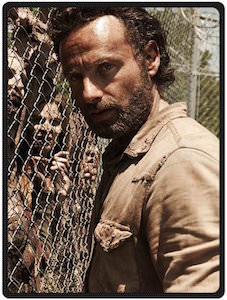 Now you can cuddle on the couch under a nice warm blanket and watch The Walking Dead.
This blanket shows Rick and that, of course, means that you can relax and be warm.
On this The Walking Dead blanket you can see Rick Grimes standing in front of the fence at the jail and on the other side of the fence you can see a whole lot of hungry walkers waiting for it's their turn to eat.
The Rick blanket is 58 x 80 inch and made from superset fleece. And this blanket is also machine washable and dries quickly so that it will be ready for when you need a nap.
You may also like: