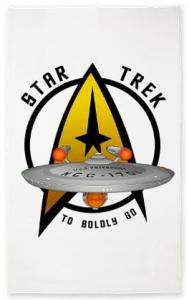 OK, you have a really awesome Star Trek themed room and you need one last finishing touch so that your room truly is a room where no one has every boldly gone before.
Here is the perfect finishing touch. This is an area rug that features the Star Trek logo and the U.S.S. Enterprise with the text "To Boldly Go" at the bottom of the rug.
Measuring a perfect 3 feet x 5 feet this area rug also features a non slip bottom and is very durable.
Complete your Star Trek room with the Star Trek Enterprise To Boldly Go Area Rug.