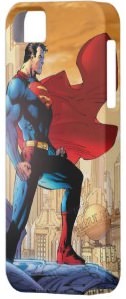 Superman is here to save us from all the bad guys and girls as he is the superhero we all look up against.
And now Superman with a little bit of help from Case-Mate will protect your iPhone 5.
This case is made from hard plastic that will hold you phone tight and make sure it doesn't get hurt.
And to make it even better you can see there is a picture of Superman on it while he is standing infront of a city scene.
You can see his muscles and see his red cape fly in the wind.
If you have a bare iPhone then come checkout this Superman iPhone 5 Case.