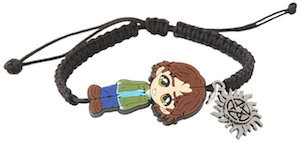 This bracelet is for the Supernatural fan that like Sam Winchester and cute.
It is a cord bracelet in black with on it a pendant that looks like a devils trap and then there is a cute rubber version of Sam so that he can be with you all day long to watch over you.
A piece of Supernatural like this is great to have and I am sure that your other Supernatural friends will want a bracelet like this to and that of course make yours look even better.
As a little bit of Sam Winchester to your life with this special bracelet all the fans want.
You may also like: