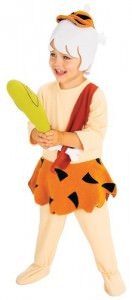 The Flintstones Barney and Betty Rubble had the cutest little child that displayed super human strength. Bamm-Bamm! Now you too can have the cutest little Rubble for any costume party or Halloween.
Your little one can run around in their sabertooth shorts and use their club to smash what gets in their path.
This official The Flintstones costume of Bamm-Bamm comes in sizes From 18 months to a size 7. It comes with a fleece jumpsuit with shoe covers. The jumpsuit has an attached brown sash and orange and black shorts. It also includes a plush caveman club and a wig/hat headpiece.
Help your little one become super strong with the The Flintstones Toddler Bamm-Bamm Costume.