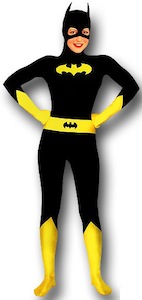 So you like Batman so much that you would wear a skin tight costume to become a superhero?
This Zentai suit is the perfect costume for Halloween.
And with a Zentai suit you just know that you will have a complete costume as it covers the complete body.
As you can the costume is black with tons of yellow accents and the Batman logo of course.
This womens costume comes in small, medium and large sizes.
If you want to become Batman and want to look amazing then check out this Batman Zentai Costume.