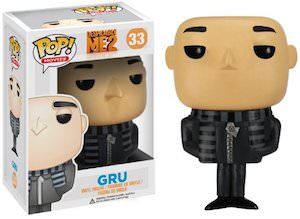 Once Gru was a real villain but now he just looks so handsome.
This figurine based on Gru in Despicable Me2  and he really looks like Gru.
At 3.75 inch the vinyl figurine is perfect for on your desk or as part of your Despicable Me collection. And if you worry about damaging Gru then you can just leave him in the box it comes in as it's a great display box.
The figurine of Gru is part of the famous Pop! Vinyl series and this Despicable Me one is a great addition to you collection.
Lets not wait any longer just come and get your Despicable Me Gru Pop Vinyl Figurine.