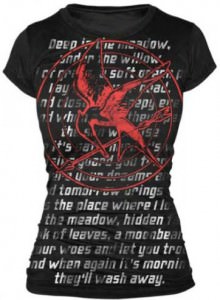 Rue's last request is for Katniss to sing to her.
This is a babydoll style t-shirt that has all the lyrics to Rue's lullaby, Katniss sings this song to her while she is on her death bed. You will also find a huge mockingjay logo in red.
You can find this greatly detailed Hunger Games inspired t-shirt in sizes Small to XLarge.
Get your The Hunger Games Katniss Song T-Shirt.