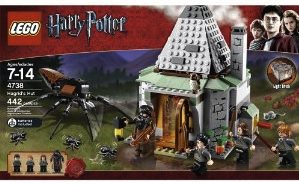 Here it is Hagrid's hut made of LEGO (item 4738). Now you can play with Harry, Hermione, Ron and Hagrid witch are all included in this LEGO set. Play with all of the character in Hagrid's hut the hut opens up so that you can play on the inside and on the outside.
The Hut is 6″ high and wide and that make it great to play.  And if all this is not enough the set also include the spide Aragog and Nortbert so lots of things are included in this super set.
But be aware these sets are not availible for always so if you are a collector be quick because you don't want to end up empty handed.
Have a closer look at LEGO Harry Potter Hagrid's Hut (4738).