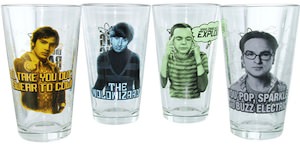 The Big Bang Theory fans will want to drink something soon and when that time come you better have this set of 4 pint glasses.
Each glass of the set shows one of the boys. There is a glass for Rajesh, Howard, Leonard and of course Sheldon. And besides having a picture of each character each glass also has the Big Bang Theory logo.
So if you are having nerdy friends over then you have to get this The Big Bang Theory Character Pint Glasses Set.